Tweet
Versión en español
A while ago I informed you that my first study had been submitted to a
peer-reviewed
scientific journal for review and publication. Those who follow me
in facebook
already know it, but to those who don't, I'm glad to announce that it was finally accepted and is published
online
under this title:
As many of you know, that research was
the first
I conducted on the topic of finger strength, and consisted of comparing the effects and order of two dead-hang training methods to
answer the question:
¿Is it more effective for high level climbers to train first on the smallest possible edge without added weight and then on a medium-sized edge with added weight, or the other way around?
I was lucky enough to present this research at the International Rock Climbing Research Congress that took place at Canterbury University (New Zealand), November, 2011
From this study's results
, and from two other that will also be in the thesis I'm currently writing, and from the years I've been able to devote to training for climbing,
stem the methods and ideas for finger strength
that you are already familiar with through this blog, and that are incorporated into the
Progression
and
Transgression
boards.
The main characteristic of these boards is that they have edges of different depths to allow for progression. Nevertheless,
this methodology can also be used with other hangboards
if they have edges with the adequate size, or you can even
build yourselves
a device that I have been using for years. Instructions can be found in
this entry
.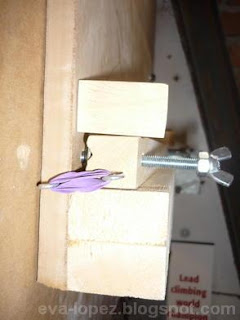 The "Regletómetro", an "open source training tool"
Now, I'd like to take this opportunity to
review some guidelines
that have been published along
several entries in this same blog
. Making them clear could save us injuries and stalled performance, and even allow for a proper, long-term finger strength development. I thought it would be useful to assemble them into one entry, so here they are:
In general, ¿When is it advisable to start training Dead-Hangs?
As it has already been stated, it would be better to start without added weight, and also to fulfill the following requisites:
Having more than 2 years of systematic (3-4 days/week) climbing and training experience. The reason for this is that, even though muscles only take weeks or months to adapt themselves to training, other structures like tendons, capsules ligaments and cartilages take years to reach the structural adaptations (thickness, tensile strength, etc.) needed to withstand the loads of this exercise, and that means years of progressive and deliberate practice. Also, a beginner should focus on technical-tactical aspects, and on developing a general muscle base, rather than using such specific methods.
Being able to hang for more than 15 seconds off a 24mm edge.
Being older than 16.
Being free of injuries or conditions that make inadvisable this exercise, or being fully recovered if there has been a recent injury. In some cases it will mean about 2 months of rest, in others it can take 6 months or even years.
After having completed one or more cycles of non-weighed dead hangs without pain or other problems that make this method inadvisable.
If you have been training and climbing systematically for 4 years (at least 4 days/week).
If you are 18+.
If you can hang more than 40 seconds off a 20mm edge and more than 15 seconds from a 10mm one.
General precautions regarding the finger strength Methodology described in this blog
1- The study that I refer to at the beginning of this entry and that was the base for all further research and training, was conducted on a sample of climbers with an average climbing level of 8a+/b (from 8a to 8c+) and a high level of finger strength. The combination of 4 weeks training with added weight and then training on the smallest possible edge was the most effective for this population, but keep in mind that such planning, and using added weight in general, is better suited for climbers of such level.
2- As I observed in another study that I will try to get published in the future, climbers with a low or medium level of finger strength, and/or those who haven't previously undergone intensive finger training, get significant results performing only the small edge method without the need of using added weight, because their body weight is enough to provide the load needed to induce positive adaptation.
3- It is desirable to use the easiest intensity, volume, pause and method that still provoke improvement. It is more effective, when starting some training, to slowly progress in method, intensity, etc. than increasing sharply the difficulty, because the long-term performance will be higher and there will be less risk of injury.
4- Maximum finger strength, even though it's the nº 1 physical factor in climbing, is not the only one that determines performance. There are also the technical-tactical and psychological aspects, as well as physical ones like endurance, strength-endurance, boulder, etc. Do not forget working them in all your training sessions and climbing in rock as much as possible if you want to improve as a climber.
5- The best training plan is an individualized one. So my approach is to explain here the effects that the methods and planning styles that I know have over people of different level, objectives, age, etc.; but a) all the possible methods are not listed here, and b) it would be ideal if you, after reading all the information, including other sources (blogs, books, articles), would decide for yourselves what method and planning is best for you. So I recommend you study all the available information and choose the approach that better suits your objectives, needs and qualities.
6- It is not recommended for younger people, with less than 18-20 years of age, to train campus board or weighed dead-hangs (Morrison and Schöffl, 2007). The reason is that while growth is still going on, the epiphyseal plates (the place were bone growth takes place) are not closed, and the use of high loads, that in an adult can injure ligaments, capsules or tendons, in a teenager can lead to stress fractures, a far more severe condition. And this is because the plate tissue is 2-5 times weaker than the rest. More information here.
So, going back to the opening of this blog post, i hope that the
mentioned article
will be interesting and useful to you, because this is really the ultimate reason for publishing. Thank you for all your support.
RELATED ENTRIES